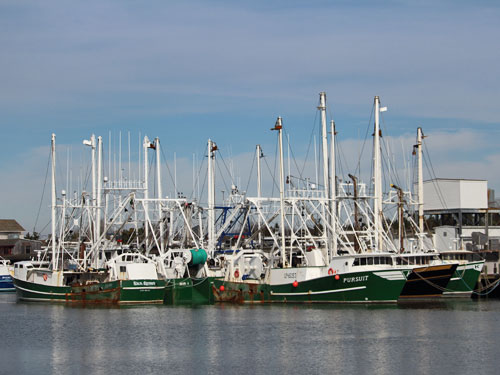 Estimated U.S. per capita consumption of fish and
shellfish was 16.0 pounds (edible meat) in 2017, according to Fisheries of the United States, 2017, from NOAA Fisheries.
This total was an increase of 1.1 pounds from the 14.9 pounds consumed in 2016. Consumption of fresh and frozen seafood and canned seafood accounted for much of the increase.
The USA is the second largest consumer of seafood in the world after China.
Consumer Spending
In 2017, U.S. consumers spent an estimated $69.6 billion in expenditures at food service establishments (restaurants, carry-outs, caterers, etc.); $32.5 billion in retail sales for home consumption; and $39.8 million for industrial fish products.
USA Wild Caught Seafood Statistics (2017):
U.S fishermen brought in 8.2 billion pounds of edible fish and shellfish in 2017.
The highest value U.S. commercial species were salmon ($688 million), crabs ($610 million), lobsters ($594 million), shrimp ($531 million), scallops ($512 million), and Alaska pollock ($413 million).
The largest U.S. commercial fishery by volume was Alaska pollock, which had landings of 3.4 billion pounds (up 1 percent from 2016).
Edible fish and shellfish landings in the 50 states increased by 744 million pounds compared with 2016.
USA Aquaculture (2016)
The report includes aquaculture data through 2016, one year behind the rest of the data in Fisheries of the United States.
In 2016, estimated freshwater plus marine U.S. aquaculture production was 633.5 million pounds with a value of $1.45 billion.
U.S. aquaculture production increased by 6.1 million pounds (1.0%) in volume and $60.6 million (4.3%) in value from 2015.
Atlantic salmon was the leading species for marine finfish aquaculture, with 35.7 million pounds produced, valued at $67.7 million.
Oysters were the highest volume farmed marine shellfish (36.6 million pounds, up 3.9%).
The United Nations Food and Agriculture Organization (FAO) estimates that nearly half of the world's consumption of seafood comes from aquaculture.
Globally, Asia is the leading continent for aquaculture production volume with over 89 percent of the global total of 80.0 million metric tons.
The United States ranks sixteenth in global aquaculture production.
Imported Seafood
The U.S. imported 5.9 billion pounds of seafood, up 1.6 percent from the previous year.
Produced by NOAA Fisheries, Fisheries of the United States is an annual yearbook of fishery statistics for the United States.
The Fisheries of the United States, 2017 report is available at: https://www.fisheries.noaa.gov/feature-story/fisheries-united-states-2017
source: NOAA Fisheries
Related Information