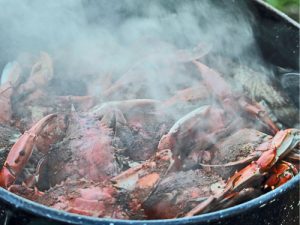 A bounty of seafood can be found along the Atlantic Coast of the USA, including fresh fish and shellfish which vary by season. From New England to Florida, the Atlantic region is home to some of the highest quality American seafood.
The Atlantic region of the USA includes the states of Maine, New Hampshire, Massachusetts, Connecticut, New York, New Jersey, Delaware, Maryland, Virginia, North Carolina, South Carolina, Georgia, and Florida.
Atlantic seafood varies considerably from south to north, with environments ranging from the North Atlantic down to the border of the Caribbean Sea.
The northernmost states of the Atlantic Coast provide some of the most famous seafood in the world. The area, known as New England, is famous for shellfish such as quahog clams, soft shell clams, scallops, lobsters, Jonah crabs, and coldwater shrimp.
New England is also famous for its catches of North Atlantic saltwater fish including cod, haddock, pollock, hake, whiting, herring, mackerel, flounder, monkfish, tuna, swordfish, and others.
New England seafood cuisine is known for its simplicity, use of fresh local ingredients and hearty, nutritious recipes. A few of the most famous New England dishes include whole cooked lobsters, lobster rolls, clam bakes, steamed soft shell clams, fish and chips, fish chowder, grilled swordfish, and other dishes.
Further south is the mid Atlantic region. This area is unique, with ports being located on the Atlantic Coast, Delaware Bay, Chesapeake Bay, and Pamlico Sound in North Carolina. Mid Atlantic seafood includes some of the best American shellfish. Among the top delicacies are blue crabs, oysters, hard clams, sea scallops, and warmwater shrimp.
The mid-Atlantic states also produce saltwater fish such as striped bass, black sea bass, Atlantic croaker, flounder, weakfish, spot, grouper, snapper, king mackerel, and others.
Important to the mid-Atlantic seafood industry are aquaculture operations. Shellfish farms produce millions of high-quality clams and oysters. These delicious shellfish are consumed locally as well as exported to much of nation. Both clams and oysters are high in demand by restaurant and bar industries, where they are served raw or steamed.
Virginia is the mid-Atlantic's largest seafood producer, with several valuable types of fish and shellfish. The most valuable harvest by far comes from sea scallops, a shellfish that places Virginia among the top Atlantic states for both value and volume of seafood landings.
Blue crabs are another important component of Virginia's seafood industry. Virginia has important harvests of wild and farmed oysters and clams. Other seafood from the Atlantic Ocean includes lobsters, black sea bass, flounder, croaker, spot, monkfish, dogfish, striped bass, and other species.
North Carolina is another leading source of Mid-Atlantic seafood. Commercial fishing boats from this state fish the open Atlantic as well the inshore estuaries. Landings of blue crabs are typically the largest of all the seafood in North Carolina, followed by croaker, flounder, and shrimp. Other landings include clams, oysters, king mackerel, snapper, grouper, sea bass, tuna, and other species.
The South Atlantic region includes South Carolina, Georgia, and Florida. These states also have important landings of seafood, including shrimp, blue crabs, clams, oysters. Important saltwater fish species of the South Atlantic include red snapper, grouper, Atlantic croaker, black drum, striped mullet, tuna, king mackerel, mahi mahi, wahoo, and others.
Originally published: April 21, 2010.
Regional Seafood