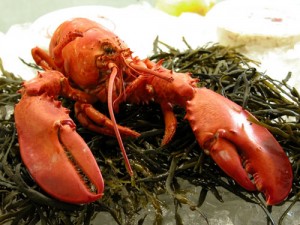 The New England states with marine shorelines include Connecticut, Rhode Island, Massachusetts, New Hampshire, and Maine.
New England is world famous for its bounty of fresh seafood. The following is a brief overview of seafood and cooking styles from Coastal New England.
Lobsters
New England lobster is mild and sweet. Lobster is served whole, boiled, or in a variety of dishes. Lobsters are available live in most coastal towns. Other areas may also have cooked, shelled lobster meat available.
The most famous New England lobster dish is the lobster roll. This simple but delicious food is a great way to enjoy lobster. Lobster rolls are easy to make and are well suited for variations. The basic lobster roll uses very simple ingredients and doesn't need much in the way of spices or strong ingredients.
Cooks start by making a simple lobster salad which can be simply chopped cooked lobster meat, mayonnaise, and salt and pepper to taste. Optional ingredients can include a little Dijon mustard, butter, lemon. and/or diced vegetables. The salad is chilled prior to serving.
The most popular lobster roll includes a double sized slice of Italian or other home made bread, with a slot cut down half way in the middle to form a pouch. The bread is toasted for a few minutes in an oven, just enough to harden the outsides.
The lobster salad is then stuffed in the center pouch. Lobster rolls are served informally with sides such as cole slaw, fries, sliced tomato, or a pickle.
Lobster pie is another very simple but delicious dish. Lobster meat is cooked, chopped and placed in a casserole dish. Some recipes add vegetables, while others remain simple.
Most variations include Italian breadcrumbs, butter, garlic, and sometimes one or more diced vegetables. Lobster pie is delicious, simple and a great way to enjoy lobster.
Other Shellfish
Although lobsters are king in New England, the region produces a bounty of other shellfish. Lesser known are two meal sized crustaceans that are sometimes found; Jonah crabs and red crabs.
The New England Region is also famous for its quahogs, soft-shelled clams, oysters, bay scallops, sea scallops, and mussels. Some species are available as both wild-caught and farm-raised.
Fish
The New England region has an excellent variety of fish. Commercial fishermen land cod, haddock, pollock, hake, monkfish, flounder, ocean perch, dogfish, and others.
Cod, haddock, and pollock are three of the most delicious saltwater fish found in New England. Local cuisine often includes one or more of these mild white fish, either cut into pieces or filleted and fried until crisp and served with fries and cole slaw.
Another popular dish is haddock, cod, or other New England fish, baked and served with fresh vegetables and bread.
The monkfish is often found in New England markets. One of the world's oddest fish, these fish are often cleaned at sea, with only the tail being landed. Monkfish have mild white flesh.
Several species of flounder are harvested in the New England region including yellowtail flounder, winter flounder, fluke (summer flounder), and gray sole.
Related Information