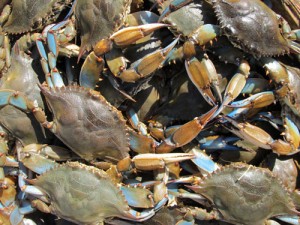 In October 2010, Maryland released a selection of crab recipes in celebration of "Maryland Seafood Month."
During the fall season, an abundant supply of large crabs is usually available at seafood markets at very reasonable prices.
"Eating Maryland seafood is a delicious part of a healthy diet," said Agriculture Secretary Buddy Hance. "Maryland blue crabs are at their largest in the fall, after having grown all summer."
SOUTHWESTERN-STYLE CRAB WRAPS
1/3 cup slightly softened cream cheese
3 tablespoons mayonnaise
1 1/2 tablespoons mild or medium-hot picante sauce
1 tablespoon finely chopped green onions or chives
2 teaspoons Worcestershire sauce
16 ounces picked-over backfin crabmeat
salt and pepper to taste
1/2 cup very well drained bottled roasted sweet pepper or pimiento, chopped
1/2 cup shredded mild cheddar or jack cheese
4 large (11 inch or similar) flour tortillas
About 8 large lettuce leaves
In a large bowl stir together cream cheese, mayonnaise, picante sauce, green onion, and Worcestershire sauce until well blended.
Lightly fold in crab meat and season with salt and pepper, as desired.
Dividing the mixture equally, spread it evenly over surface of tortillas.
Pat roasted peppers dry with paper towels.
Dividing equally, sprinkle them, along with the cheese, evenly over crab mixture.
Pat lettuce leaves completely dry on paper towels. Lay lettuce leaves on tortillas, patching and tearing as necessary, to completely cover filling.
Press down leaves to compact mixture as much as possible. Fold up one side of tortilla about 1 inch to form a bottom and hold filling.
Then, working from one perpendicular side, roll up tortilla neatly. If desired, cut crosswise across of the tortilla to trim off excess dough and to expose the roll-up filling.
Tightly roll up wrap in wax paper, twist the paper ends to prevent unrolling. Repeat with remaining tortillas.
Wraps can be made several hours ahead and refrigerated until serving time.
Remove from the refrigerator to warm up slightly before serving.
Remove paper from around wraps just before serving. Makes 4 burrito-size wraps.
Steamed Blue Crabs
½ Cup Seafood Seasoning
½ Cup Salt
3 Cups White Vinegar
3 Cups Beer (or water)
3 Dozen live Maryland Blue Crabs
Mix seasoning, vinegar and beer (or water) well. Put one-half crabs in very large pot with rack and tight fitting lid.
**Pour one-half of seasoning mixture over top. Add rest of crabs and remaining liquid.
Steam, covered, until crabs turn bright red in color, about 20 to 30 minutes. Serve hot or cold.
Makes about 6 to 12 servings, depending upon size of crabs and other foods served.
** If two pots are used, layer crabs and measure seasoning mixture accordingly.
source: Maryland Department of Agriculture
Related Information
Fish, Shellfish, and other Seafood