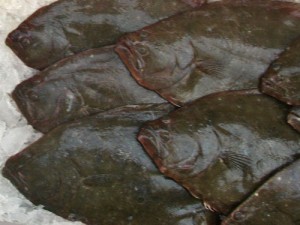 From mid-winter thru early spring, a bounty of fresh fish from the Atlantic are available from New England to North Carolina.
Flounder, also known as fluke, is one of the most popular fish landed during these months. These delicious Atlantic flatfish are oval shaped with both eyes on one side. Flounder range from 3 to 10 pounds.
There are several ways to enjoy flounder. These delicious fish are often available at coastal seafood restaurants. Some restaurants will announce specials when seasonal products such as fresh off the boat flounder are available.
Another way to obtain fresh flounder is to visit a reputable seafood market near Atlantic fishing ports. Most seafood markets in port towns offer flounder and other fresh-caught fish.
Originally published: April 1, 2010.
Related Information
How To Fillet Flounder, Fluke, and Sole
Fish, Shellfish, and other Seafood