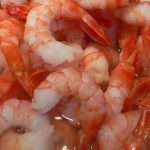 Seafood Expo North America
Boston Convention Center
March 11-13, 2018
Seafood Expo North America/Seafood Processing North America is North America's largest seafood trade exposition. This once a year event brings professional seafood buyers and seafood suppliers together under one roof.
Attendees include owners, proprietors, executive purchasing managers, category managers, private label program buyers and equipment and packaging buyers from retail, foodservice, and other business categories.
Represented at the expo will be numerous sectors including airlines, clubs, cruise lines, distributors, fast food, government/military, grocers, catering, hospitals, hotels, import/export, manufacturing, processors, resorts, restaurants, schools, and wholesalers.
The exposition features over 1,340 exhibiting companies from more than 50 countries. Exhibitors supply nearly every type of fish, seafood, and seafood-related product or service.
Seafood Expo North America/Seafood Processing North America Highlights:
Fresh fish and seafood
Frozen fish and seafood
Value added seafood
Processed and packaged fish and seafood
Processing and packaging equipment
Freight forwarders and logistical services
Seafood-industry service providers
awards ceremony to recognize new products
conferences; industry issues, new regulations, innovations, and trends
For more information, visit: www.seafoodexpo.com/north-america/