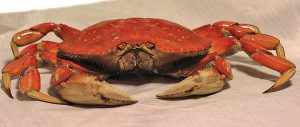 After a six-week delay, Washington State's commercial Dungeness crab fishery will open in coastal waters on January 15, 2018, according to state shellfish managers.
Washington Department of Fish and Wildlife (WDFW) crab fishery managers approved the opening in coordination with managers from Oregon and California.
WDFW delayed the fishery opening, initially scheduled Dec. 1, to allow more time for crabs to fill with meat and to coordinate coastal openings with Oregon and California.
Fishery managers estimate crab will have adequate meat in their shells by Jan. 15 to proceed with the opening.
Washington's 2016-17 non-tribal commercial crab fishery was valued at $52 million.
Recreational crabbing remains open in all of Washington's coastal waters.
For more Information, visit: wdfw.wa.gov.
source: Washington Department of Fish and Wildlife