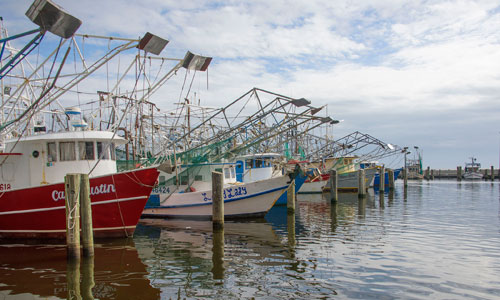 Consumers who participate in blind taste tests tend to prefer the taste of wild-caught Gulf shrimp over that of pond-raised, imported products, according to Dave Burrage, Mississippi State University Extension Service fisheries specialist.
"Fresh Gulf shrimp get their distinctive flavor from their natural diet, as opposed to the artificial feed given to shrimp raised in captivity," Burrage said.
Ben Posadas, Extension seafood marketing specialist at the Coastal Research and Extension Center in Biloxi, said imported shrimp comprise about 90 percent of the total supply in the United States.
Lower priced imported shrimp are handled as commodities, while wild-caught Gulf shrimp can be handled and marketed as specialty products.
"Large institutional buyers like restaurant chains prefer to buy from the commodities market," Posadas said. "They buy cheaper shrimp, which are mostly imported."
The shrimp industry in the Gulf of Mexico suffered two severe blows in recent years. In 2005, Hurricane Katrina destroyed much of the shrimp boat fleet and processing facilities along the Gulf Coast. In 2010, the massive Deepwater Horizon oil spill devastated the Gulf region.
"Gulf marketing efforts have been geared toward restoring confidence in Gulf shrimp and in recovering our market share," Posadas said.
Most Gulf shrimp are sold fresh, and buying local shrimp helps both the fishermen and the regional economy.
Earl Ross is a retired shrimper who lives in Biloxi. He shrimped for about 25 years, and his last shrimp boat was the Lady Dizzy, which he harbored in Ocean Springs.
Commenting on consumer behavior, Ross noted: "Unfortunately, a lot of people are going to buy based just on price. If they haven't experienced the flavor of Gulf shrimp, they don't know what they're missing."
The Gulf Coast Seafood organization promotes wild caught shrimp and other seafood. The organization reasons that Gulf Coast seafood's unique taste is due in part to the nutrient-rich environment found in the Gulf.
The coalition promotes wild-caught products of the Gulf of Mexico landed in Mississippi, Texas, Louisiana, Alabama, and Florida.
source: Mississippi State University Extension Service
Related Information