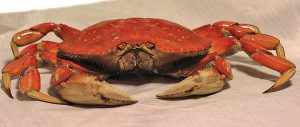 Chitosan, produced from the shells of shrimp, crabs, and other shellfish, has a variety of uses.
It is used as a treatment for bleeding wounds, for filtering wine, and as a soil enhancer by organic farmers.
Chitosan is also popular as a dietary supplement, although its benefits to humans is debated.
Originally published: August 4, 2012.
Related Information

Fish, Shellfish, and other Seafood