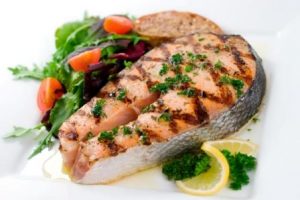 Seafood is a traditional food in many holiday cuisines, so its popularity as a Christmas or other holiday gift is understandable. These traditions vary by region, often including whatever seafood is available locally during the late fall and winter.
In areas such as the Mid-Atlantic Coast, oysters are popular for Thanksgiving and Christmas. In the northeast, family dinners might include rich chowders made with clams, cod, haddock, or other local seafood. Lobster is another item that may be served in New England during the holidays.
Similarly, West coast families might serve king crab, Dungeness crab or wild Pacific salmon for a holiday meal. Along the Gulf Coast, Cajun and other cuisines use shrimp, crawfish, catfish, and other seafood in holiday dishes.
In the USA, coastal communities have always served seafood as part of family meals. Regional seafood dishes became a holiday tradition throughout much of North America. After a few generations of coastal residents left their small fishing towns to live elsewhere, the demand for seafood as a holiday food spread across the nation, creating a need for shipped seafood.
Fortunately, the seafood industry has responded with a variety of solutions. A wide range of non-perishable products are available now for seafood enthusiasts and holiday shoppers. Items such as smoked salmon, canned oysters, pre-cooked seafood soups, chowders, bisques, seafood marinates, sauces, and other products are offered in forms that do not require refrigeration.
For shoppers that want the highest possible quality, seafood is available fresh from the boat. Lobsters, crabs, shrimp, clams, oysters, scallops, mussels, fish, and other seafood is all available online, ready to be shipped overnight in special chilled containers. Online stores also offer frozen seafood products, either uncooked or fully cooked meal entrees.
Gift baskets are another option when choosing a seafood-related gift for a loved one. Baskets are available that contain single types of products or a mixture of several items such as smoked salmon or other fish, canned smoked oysters, caviar, canned stews, and other delicacies. Gift baskets are extremely popular for outdoorsmen as many come with combinations of seafood, wild game, cheeses, condiments, and other treats.
Seafood cookbooks are always popular as gifts. These are available at local bookstores or via online specialty stores.
Originally published: November 1, 2009.
Related Information
Fish, Shellfish, and other Seafood