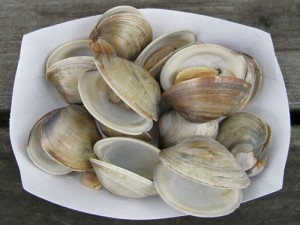 Increasingly, consumers want information about sustainability when buying seafood. With so many sources of information, shoppers find it hard to make choices when it comes to buying sustainable seafood.
Before choosing which information will affect purchasing preferences, a good option is to define sustainable seafood:
According to NOAA FishWatch, "Seafood is sustainable when the population of that species of fish is managed in a way that provides for today's needs without damaging the ability of the species to reproduce and be available for future generations. If you buy fish managed under a U.S. fishery management plan, you can be assured it meets 10 national standards that ensure fish stocks are maintained, overfishing is eliminated, and the long-term socioeconomic benefits to the nation are achieved."
Aquaculture is also impacted by sustainability issues. Aquaculture industries supply much of the world's seafood and it is expected that those industries will provide a significant portion of the global seafood supply in the coming years.
The United States is a major consumer of aquaculture products, but a minor producer. Currently, over 80 percent of the nation's seafood is imported, and half of that is from aquaculture. U.S. aquaculture currently supplies less than 10 percent of the nation's seafood.
Farm raised seafood products are assessed based on several factors, including sustainability of feeds and environmental impacts of operations.
Several certification programs and labeling schemes seek to address seafood sustainability issues. Some programs are specialized, while others directly compete with each other. Sustainability certification has become common for both wild caught and farm raised products.
The extensive list of programs and food labels can be overwhelming to the average consumer, although some progress has been made towards simplifying the process.
The Marine Stewardship Council is currently the most widely recognized independent eco-label for wild-capture fish. The certification program is consistent with UN FAO guidelines for fisheries certification and the ISEAL Code of Good Practice for Setting Social and Environmental Standards.
Friend of the Sea offers certification for sustainable seafood originating from both wild fisheries and aquaculture. It is the only major scheme which can certify, with the same seal of approval, products both farmed and wild-caught. Friend of the Sea claims to have certified the largest volume of seafood worldwide.
Organizations such as Wild American Shrimp, Inc.  promote sustainability among domestic fisheries. WASI certifies sustainable American wild-caught shrimp from Alabama, Florida, Georgia, Louisiana, Mississippi, North Carolina, Texas and South Carolina. The program requires that warm-water, wild caught shrimp from U.S. coastal waters meet a high standard of quality and consistency.
In addition to certification and labeling programs, several organizations provide the public with seafood information, often categorizing species in terms of sustainability. While this sounds like an excellent way to help consumers make smart choices, the opposite is sometimes true. It seems that several organizations have an environmental agenda and several lists have been noted for containing grossly inaccurate information.
One simple method of choosing which types of seafood to buy in terms of sustainability is to visit NOAA's FishWatch website. The FishWatch website contains information by species which includes the current sustainability status of each fishery.
Aquaculture, also known as fish or shellfish farming is another science that has sustainability implications. Aquaculture can be defined as the cultivation of marine organisms, such as shellfish and finfish, for food and other products. Aquaculture techniques are also widely used to help restore valuable wild fisheries and habitat, including oysters and finfish.
Chefs have responded to sustainability issues. The National Restaurant Association's annual survey of professional chefs revealed that sustainability was a top issue for 2010.
Locally grown produce, locally sourced meats and seafood, sustainability, mini-desserts and locally produced wine and beer topped the list of nearly 215 culinary items in the "What's Hot in 2010" survey.
Originally published: April 22, 2010
Related Information
Fish, Shellfish, and other Seafood