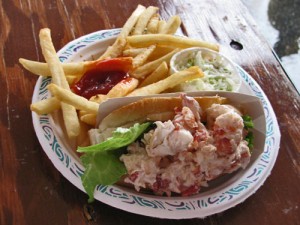 With a surge of interest in subjects such as health, sustainability, the green movement, and organic foods, consumers are choosing to create simple, healthy and delicious cold seafood dishes.
Seafood salads, spreads and other recipes make versatile meals for a wide range of situations. Many cold salads and spreads start with a foundation of healthy and sustainable seafood such as salmon, tuna, cod, shrimp, clams, oysters, surimi or other products.
These types of dishes are great way to achieve a diet that contains omega-3 fish oils, protein, minerals, and other nutrients. The American Heart Association, American Medical Association, American Diabetes Association, and the U. S. Department of Agriculture recommend eating fish at least two times a week.
These recommendations are the result of decades of scientific studies which show a variety of benefits of diets rich in seafood. Research has indicated eating seafood twice a week can help reduce the risk of stroke, heart disease, dementia, depression, inflammatory conditions, and the effects of diabetes.
Most seafood salads are simple to prepare, require only a few basic ingredients and are perfect for consumers that want a delicious and healthy dish. Many popular recipes are appropriate for serving with breakfast, lunch, dinner, or simply as snacks or appetizers.
Throughout the world, seafood salads and other dishes are often based on regional seafood. These local recipes may contain a single type of fish or shellfish, or include a combination of fresh ingredients.
In the Pacific Northwest of North America, seafood salads might include Dungeness, king or snow crab meat as well as other local seafood such as salmon, cod, halibut, cold water shrimp, or other delicacies.
Similarly, a salad from the USA mid-Atlantic might include one or more regional favorites such as blue crab meat, southern shrimp, lobster, sea scallops, and local fish.
In New England, lobster rolls are popular. Rather than complicate the dish with a large number of ingredients, the dish is made from diced, cooked lobster meat, mayonnaise, spices, and salt and pepper to taste.
A variety of vegetables, fruits, herbs, spices, condiments and other products pair well with seafood. These may include ingredients such as celery, greens, onions, garlic, horseradish, sweet peppers, jalapeno or chili peppers, fresh or sun dried tomatoes, lemon, lime, mango, avocado, cream cheese or other cheeses, sour cream, mayonnaise, mustards, pepper, chili powder, cumin, sea salt, and more.
Serving choices for seafood salads and spreads are very easy. Depending on the situation, they can be served with a variety of crackers, rolls, breads, toasts, wraps, tortillas, or other sides.
Related Information