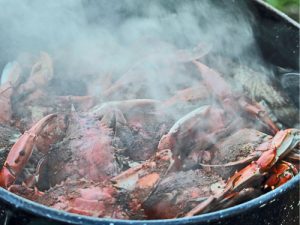 A wide range of kitchen accessories are available to help in the preparation, cooking, and serving of seafood.
Protective Equipment
Several safety-related kitchen accessories are useful for preparing fish, shellfish, and other seafood. These include cut-resistant gloves, cutting boards, and aprons.
Fish Cleaning
Chefs may need a variety of specialized equipment for cleaning and preparing fish. Specialized knives are required for filleting fish, heading and gutting (h-g), Other important accessories may include fish scalers, catfish pliers, and heavy duty kitchen shears.
Shellfish – Crustaceans
Specialized knives are essential for shucking oysters, opening clams, and processing cooked crabs. Other accessories include shrimp deveiners, and crab – lobster claw crackers.
Processing Equipment
A variety of processing equipment can be useful when preparing seafood such as a food processor, hand chopper, and vacuum bagger.
Cooking
Chefs usually consider a few pieces of special equipment to be essential for cooking seafood. These may include a gas or charcoal grill, grilling sheets, and seafood steamers.
Serving
Cooks and chefs may choose to serve seafood on specially shaped dishes. Some dishes require specialized accessories. For example, crab and lobster forks may be needed when serving whole cooked crustaceans.
Kitchen Decor
A variety of kitchen accessories are available for creating seafood themed decors. These include kitchen towels, potholders, ceramic tile trivets, chowder mugs, placemats, and other items.
Related Information
Fish, Shellfish, and other Seafood