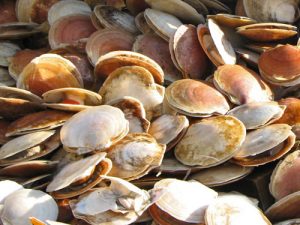 The 2016-2017 Maine Scallop Season is off to a strong start, according to an early report from Maine Department of Marine Resources (DMR).
The quality of scallops is said to be high, with harvesters landing some of the largest scallops in recent memory.
Scallop Sizes
The size of scallops is often designated by the letter U, which stands for "under" followed by a number.
The smaller the number, the bigger the scallop. For example, U/10 scallops contain 10 individual meats or less per pound.
Zone 1 – Maine/NH Border to Cape Jellison
Divers and draggers reported moderate to good fishing. Much of Zone 1 is currently closed for rebuilding including Sheepscot Bay and Muscongus Bay.
Zone 2 – Cape Jellison to Lubec-Campobello Island Bridge
Harvesters are reporting scallop counts in the U/15 – U/20 range with some areas reporting substantial percentages of catch U/10s.
Zone 3 – Maine Territorial Coastal Waters North and East of Lubec-Campobello Island Bridge
Strong catches are reported with harvesters consistently landing U/15s – U/17s, with a substantial amount of U/10s also being landed.
In Zone 3, harvesters are reporting landing some of the biggest scallops ever.
For  more information on the 2016-17 Maine Scallop Season, visit the Maine Department of Marine Resources website
source: Maine Department of Marine Resources