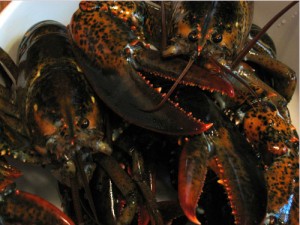 In August, the Commonwealth of Massachusetts launched seafood marketing program aimed to increase awareness and demand for local seafood products and support Massachusetts' fishing and seafood industries.
The Massachusetts Seafood Marketing Program kicked off its formal marketing efforts by participating in the 5th annual Boston Seafood Festival at the Boston Fish Pier and sponsoring a Cambridge chef's participation in a national cooking competition in New Orleans.
Managed by the Department of Fish and Game's (DFG) Division of Marine Fisheries (DMF), the program will educate people on seafood availability, preparation, health benefits, economic contribution and environmental sustainability through printed material, events, partnerships and more. Legislators, agency heads and industry members comprise the program's steering committee.
The new seafood marketing program chose the Boston Seafood Festival to launch because the event celebrates the commercial fishing heritage of Massachusetts while highlighting the significant infrastructure that is the Boston Fish Pier.
As part of the Seafood Marketing Program debut, the program sponsored Cambridge restaurateur Peter McCarthy, the owner of EVOO in Kendall Square, to participate in the Great American Seafood Cook-Off in New Orleans.
Chefs from twelve states participated in the competition, which is dedicated to promoting sustainable and domestic fisheries. McCarthy placed third in the competition by preparing smoked Massachusetts Bay bluefish fillet with corn risotto, zucchini and tomato-basil relish to highlight Massachusetts seafood cuisine.
source: Massachusetts Office of Energy and Environmental Affairs