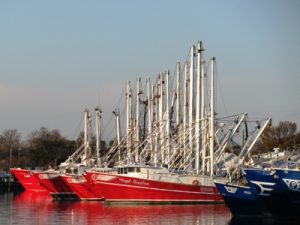 Virginia has a thriving seafood industry, ranking consistently among the top 5 American states for seafood production. Virginia seafood is harvested from the Chesapeake Bay, coastal bays and Atlantic Ocean.
Virginia seafood includes flounder, striped bass, black sea bass, seatrout, drum fish, spot, croaker, sharks, rays, eels, crabs, oysters, clams, scallops, whelks, and other products.
Fish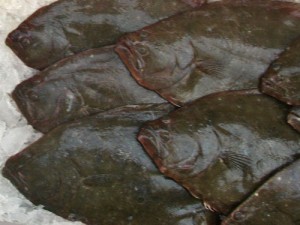 Flounder are the most popular Virginia fish among seafood lovers; known for their mild-tasting white flesh. Flounder typically weigh 2-8 pounds.
Flounder are served in a variety of ways, the most common being filleted and fried or broiled. Virginia flounder are sometimes stuffed with local crab meat and then baked.
Striped bass, known in Virginia as rockfish are a heavy bodied saltwater fish. They have a distinctive flavor and firm flaky meat.
Rockfish are available wild caught or farm raised. They are delicious fried, grilled or broiled. Rockfish are commonly a few pounds although 50-pound fish are sometimes caught.
Bluefin tuna are a sport fish in Virginia. They are caught from June thru late fall from Virginia Beach, Chincoteague Island, Wachapreague, and other ports.
Virginia has catches of yellowfin tuna from late spring thru late fall. Seafood lovers may find fresh yellowfin tuna in local restaurants and seafood markets in season.
Mahi Mahi or dolphinfish is a brightly colored pelagic fish found in the open ocean of the Virginia coast. Mahi Mahi is a white fish with a distinctive flavor. Fresh caught Mahi Mahi is often served grilled or broiled in Virginia restaurants.
Shellfish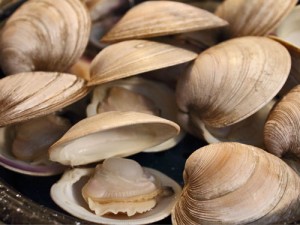 Virginia is a top producer of shellfish. Wild shellfish harvesters bring several types of clams to port including hard clams (quahogs) surf clams, razor clams, and soft-shelled clams.
Chincoteague Island and other seaside communities produce some of the highest quality oysters on the USA east coast.
Virginia's portion of the Chesapeake Bay is also known for its oysters and clams.
In both areas, aquaculture operations grow hard clams and oysters which are prized for their quality.
The bulk of Virginia blue crabs are harvested from the Chesapeake Bay, an estuary famous for the crustacean. Virginia commercial fishermen harvest top quality blue crabs using baited pots, trotlines, and other gear.
Soft shelled crabs are another Virginia delicacy. These crabs are harvested as "peeler crabs" and kept in tanks until they shed their hard shell. They can be served in a number of dishes but the most popular meal is breaded and fried soft crabs served on a sandwich bun.
Virginia is one of the leading U.S. states for landings of sea scallops. These open ocean shellfish are arguably among the best tasting of all seafood. Sea scallops are harvested and processed at sea, then rushed to market.
American lobsters are caught off the coast of Virginia and are sometimes sold locally. Restaurants serve fresh Virginia lobsters prepared in a number of ways.
More recently, Virginia has developed a niche shrimp fishery. Shrimpers harvest mainly white shrimp in the fall and winter, much of which is sold boatside or in local markets. The availability of fresh shrimp in Virginia has strengthened the relationship between harvesters and consumers.
Virginia Seafood Cuisine
Virginia is known for its blue crabs. The crabs are eaten steamed in the shell or served as crabcakes and other dishes. Soft shelled blue crabs are a local delicacy when available.
Clams are eaten raw, steamed or in dishes such as chowders. Clam chowder is a rich soup using clams, vegetables and either a tomato based or dairy based broth. Another favorite Virginia clam dish is clam fritters.
Regarded among the nation's top varieties of shellfish, Virginia oysters are served raw or steamed in the shell.
Related Information