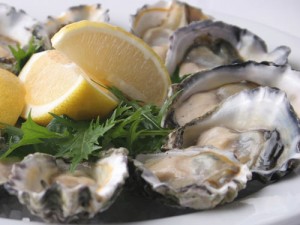 Seafood has long been a staple in Louisiana cuisine. Local catches often include catfish, snapper, grouper, shrimp, crabs, oysters, and crawfish.
The very distinct Cajun and Creole flavors of Louisiana dishes draw tourist to experience not only the diverse culture in sight and sound, but also in taste.
Creole cuisine is a melting pot of French, Spanish, French Caribbean, African, Italian, and American influences.
Cajun cuisine gets it's origins from the French-Acadians who found themselves refugees in Louisiana after being deported from Canada by the British.
The Acadians (Cajuns) developed their unique cuisine by adapting their French style of cooking to the new ingredients available to them.
These dishes would include a mixture of ingredients that others would see fit to throw away or would perhaps even deam useless. For example, many Cajun and creole dishes include alligator, turtle, crawfish, bullfrogs, and shrimp.
The Cajuns were poor people who made the most out of what they had. Not even the hog's head was wasted.
Some great Cajun and Creole Seafood dishes are Crawfish Atouffe, Catfish Courtboullion, Shrimp Creole, Pompano en Papillote, and of course Seafood Gumbo.
Today Cajun cuisine is extremely popular in much of the USA and worldwide, with seafood being a major ingredient in many of the most popular dishes.
The catastrophic Hurricane Katrina blew upon the Louisiana coast in August 2005, with Hurricane Rita following behind, not even a month after. As a result of 2005's Hurricane Season's devastating effects, not only did Louisiana's coastline take a major blow, but the seafood industry was devastated.
Much of the seafood was exposed to floodwaters or spoilage from lack of refrigeration and had to be destroyed. Commerical fishing boats, seafood processing plants, seafood dealers, and other seafood industry infrastructure was damaged or lost.
Louisiana fisheries were heavily impacted on the Eastern and Western portions of the state. Impacts were seen thru major decreases in landings of fish, shrimp, oysters, and other seafood. Landing values for the following year showed losses in the millions, compared to the previous five year average's values.
Even though the Louisiana seafood industry suffered severe losses, it endured and regained great strength. Though it still has yet to recover to average levels seen in the years before Katrina and Rita, it is doing remarkably well considering what it was faced with during that fateful season. Today consumers find delicious, high quality, wild caught shrimp, oysters, fish, and other seafood from Louisiana.
Louisiana is noted for its aquaculture, including production of farmed catfish and crawfish. Louisiana leads the USA in crawfish production, producing more than 90% of the domestic crop.
Related Information