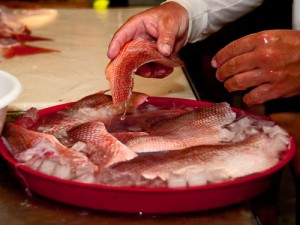 Florida is known for its abundance of fish, shrimp, lobsters, crabs, clams, and other seafood.
Fish
Popular florida saltwater fish include red snapper, several types of grouper, mahi mahi, king mackerel, wahoo, yellowfin tuna, Spanish mackerel, Florida pompano, mullet, and others.
Shrimp
Florida shrimp include white shrimp, brown shrimp, pink shrimp, and rock shrimp. All four species are harvested from wild stocks.
The majority of Florida's brown, white, and pink shrimp are harvested from the Gulf of Mexico while rock shrimp are landed from the east coast of Florida. Shrimp from Florida are available fresh or frozen, head-on or head-off, cooked or uncooked.
Spiny Lobsters
Spiny lobsters (rock lobsters) are crustaceans related to crabs, shrimp, crayfish and the Spanish lobster. Rock lobsters produce white meat that is mild and slightly sweet. Spiny lobsters are available whole or tail only. Plan on about one pound per serving.
Stone Crabs
The majority of Florida stone crab claws are commercially harvested off the southern tip of Florida from Sarasota to Fort Lauderdale. Stone crabs are caught in traps and only the claws that meet a regulated size are taken.
Live stone crabs are then returned to the water where they regenerate new claws in about 18 months. The fresh claws are cooked immediately after harvest and sold fresh-cooked or frozen in seafood markets.
Clams
Two hard clam species occur in Florida waters. The northern hard clam is the most commonly harvested of the two species. It is found from the Gulf of St. Lawrence to the Gulf of Mexico. The southern hard clam replaces the northern hard clam in certain areas of the Gulf Coast.
Bay Scallops
In Florida, recreational harvesters collect bay scallops by hand or with dip nets. Commercial harvesting of bay scallops is not allowed in Florida.
Related Information