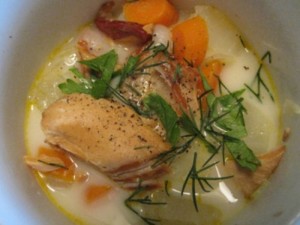 White chowders are popular seafood dishes. Chowders combine a few basic vegetables with a single selection of seafood or perhaps a combination of fish and shellfish. This traditional dish is an excellent project for novice seafood enthusiasts due to its versatility and universal appeal.
Although cooking with milk or cream can seem intimidating at first, a few basic steps will assure success. Once a basic chowder has been made successfully, cooks will want to experiment by combining local types of seafood with a variety of vegetables, herbs and spices. The resulting dishes are hearty, healthy, easy to prepare, and unbelievably delicious.
To begin with a basic chowder, follow this recipe:
Ingredients
8 oz. fish, baked, broiled, grilled or poached – choose a fish with white meat that separates into large flakes
1 large potato, peeled and diced
1 carrot, peeled and sliced
1 small onion or shallot, diced
2 cups canned chicken stock or home made fish stock
1 cup milk or heavy cream
2 Tbsp. butter
2 Tbsp. flour
salt to taste
Directions
1. Bring stock to a boil and add vegetables, reduce heat and simmer 20 minutes, until vegetables begin to soften. Add flakes of fish and set aside.
2. In a separate saucepan, melt 2 Tbsp. butter, add 2 Tbsp. flour and cook until browned slightly. Add one cup cold milk or cream and simmer until mixture starts to thicken. This is a basic white sauce.
3. Move vegetables and fish back to a heat source and slowly add the white sauce, stirring well.
4. Simmer 5 minutes on medium low heat. Add small amounts of milk to thin or flour to thicken the chowder.
5. Remove from heat and serve. Sprinkle with a small amount of fresh chopped parsley, chives or cilantro and red pepper.
For beginning cooks, this chowder is a good way to get comfortable with creating diary-based seafood meals.
The next step is to experiment by combining multiple types of seafood, complimentary vegetables, herbs, and spices.
Related Information
Fish, Shellfish, and other Seafood