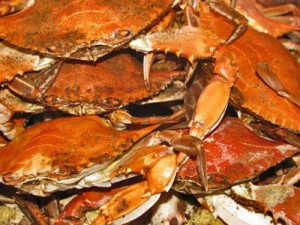 This is a traditional recipe for cream of crab soup. This recipe can be used with meat from blue crabs, Dungeness crabs, or other crustaceans. The amount of crab meat can be reduced if desired. The richness of the soup can be controlled by varying the amount of milk and cream. Adding flour will thicken the soup. If the soup is too thick or too creamy, add water.
Prep Notes:
Inspect crab meat, being careful to remove any shell fragments; set aside.
Ingredients:
1 lb. crab meat
1 cup chicken, fish, or vegetable stock
2 cups milk
1 cup heavy cream
1 Tbsp. butter
2 Tbsp. finely chopped onions
2 Tbsp. flour
1 tsp. sea salt
red pepper, to taste
optional: chives, parsley, or cilantro (for garnishing)
Instructions:
Heat onion, butter, and flour about 5 minutes until onion browns slightly.
Stir in stock, crab meat, and salt, heat to boiling.
Slowly add milk and cream; stir constantly; do not allow soup to boil.
Add red pepper and salt if necessary, to taste.
Reduce heat and simmer 3 minutes, stirring frequently.
If desired, garnish with fresh chopped herbs.
Serve hot, with crackers.
Servings: 2
Prep Time: 10 minutes
Cook Time: 15 minutes
Related Information
Fish, Shellfish, and other Seafood