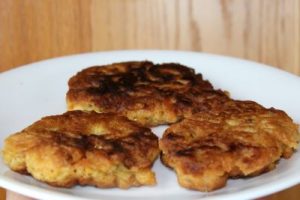 This is a traditional recipe for clam fritters, made with Virginia hard clams (quahogs).
Ingredients:
12-18 clams depending on size
1 egg
dash of baking powder
1/4 tsp. yellow or spicy brown mustard
2 Tbsp. milk
flour
dash of red pepper
Prep Notes:
Shuck clams, catching the juice in the bowl. Rinse clams in their own juice. Use kitchen shears and remove stomachs from the clams. The remaining parts of the clams may be cut up into small pieces with shears or chopped in a food processor.
Instructions:
Add chopped clams, egg, baking powder, about 2 tablespoons of milk, and mix.
Blend in flour until the batter becomes thick like pancake batter.
Heat a cast iron skillet on relatively high heat and add enough cooking oil to cover the bottom of the pan.
Spoon the batter mix into the oil when the pan is hot enough.
Cook until brown and then carefully flip the fritters.
Remove and drain well on paper towels.
Serve immediately on hamburger buns as-is or with ketchup and mustard.
Servings: 2
Prep Time: 30 minutes
Cook Time: 15 minutes
Related Information
Fish, Shellfish, and other Seafood