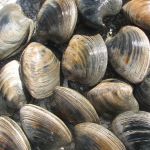 A traditional cream-based New England style clam chowder with vegetables. This hearty chowder is usually served with crackers or toast.
Ingredients:
2 cups diced potatoes
2 cups diced vegetables; carrots, celery, tomatoes, cabbage, fresh corn, onions (any combination)
heavy cream or half and half, as needed
1 pint fresh chopped clams with juice or (3) small cans of chopped clams, drained
salt if necessary and red or black pepper to taste
optional: fresh chives, green onions, or parsley
Instructions:
Boil vegetables in stock until just tender.
Reduce heat and add clams and cream while stirring well.
Add flour in small amounts to obtain desired consistency.
Add salt and pepper to taste.
Simmer 5 minutes to blend flavors.
Garnish with fresh chives, green onions, or parsley if desired.
NOTE: Do not allow chowder to reach a rolling boil.
Servings: 4
Prep Time: 15 minutes
Cook Time: 30 minutes
Related Information
Fish, Shellfish, and other Seafood