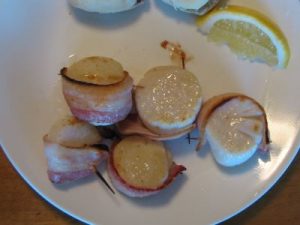 This is an easy recipe for sea scallops wrapped in smoked bacon.
Ingredients:
1 lb. sea scallops
thick cut premium smoked bacon
1 Tbsp. chopped cilantro
lemon wedges
Prep Notes:
Choose large sea scallops if available.
Drain scallops well.
Pat dry if necessary.
Instructions:
Drain scallops.
Cut bacon just long enough to wrap around each scallop.
Wrap scallops with pre-cut bacon strips.
Secure bacon using large toothpicks or a grilling skewer.
Place on a broiling pan or rack with drain pan.
Broil scallops 3-4 minutes, then flip.
Cook only until bacon and scallop edges begin to brown.
Remove from broiler and drizzle with lemon juice.
Sprinkle with fresh chopped cilantro and serve immediately.
Servings: 2
Prep Time: 10 minutes
Cook Time: 10 minutes
Related Information
Fish, Shellfish, and other Seafood