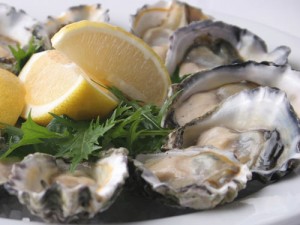 Combining foods can sometimes achieve better results than either dish would provide on their own. A prime example of this is serving fresh caught fish or other seafood with fresh vegetables, herbs, and fruits.
Certain foods just seem to complement one another and this phenomenon can be quite evident when seafood is served with garden fresh produce.
For example, shrimp, oysters, and many white fish are complimented by lemon. Crab cakes are delicious with fresh sliced garden tomato. Lobsters just seem to be better with a fresh ear of corn on the side.
Other seafood dishes can be enhanced with herbs such as parsley, cilantro, basil, dill, or oregano.
Many of the most respected seafood recipes are simply incomplete without garden fresh vegetables, fruits and herbs.
Shrimp Scampi is one of the most popular seafood dishes known. Most scampi recipes mate shrimp with garlic, lemon and fresh herbs. Clam chowder is exquisite with garden tomatoes, onions and carrots.
A seafood lovers' garden might include lettuce, salad greens, corn, lima beans, stringbeans, potatoes, tomatoes, sweet peppers, hot peppers, squash, okra, onions, shallots, garlic, dill, chives, parsley, cilantro, oregano, and other foods.
The same principal applies to breads. Seafood is often served with rolls, biscuits, crackers, cornbread, or hush puppies. Many of these items can be specially seasoned to compliment the seafood they are being served with.
Related Information